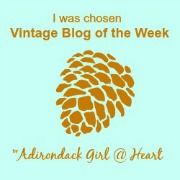 Vintage Blog of the Week
One of my favorite bloggers who also blogs about her vintage treasures and DIY projects is Diana from Andirondack Girl @ Heart.
She is featuring me on her blog as the "Vintage Blog of the Week."
Thank you, Diana, what an honor!
You might remember her name from my "Thrifty & Vintage Finds" link parties. I just featured her again this week — check out her latest finds!
Diana loves to go thrifting just as much as I do, and has an amazing knowledge about vintage items and antiques.
She also has an Etsy store, paints furniture, and creates all kind of things, like this adorable DIY miniature mannequin.
You won't believe what she made it out of: she upcycled a dish soap bottle!
I'm so thankful to Diana for taking the time to write about my blog and Etsy store, and even my eBay guides.
Don't miss her post, and discover her lovely blog at the same time!