Did you ever learn about an awesome product that worked so well that you couldn't wait to tell everybody about it because you wanted everyone else to benefit from it?
That's how I feel about homeopathic Bach RESCUE.
It's my best-kept stress relief secret I don't want to be a secret.
In fact, I've been telling people about it for years.
I don't remember when I came across RESCUE for the first time, but I think it was back in Germany, where I grew up with homeopathic remedies. That was over 20 years ago.
I'm sure my mom used it, who is a health nut like me, and then I started using it.
RESCUE helps you stress less and stay calm in any situation that you are worried or anxious about — with ingredients found in nature.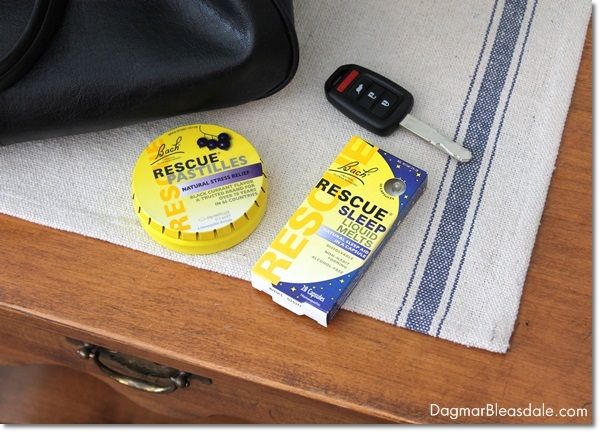 RESCUE Pastilles Offer Natural Stress Relief
RESCUE was developed by a doctor and is safe and non-habit-forming. It has no side effects, has been trusted for generations since 1930, and is used by millions worldwide.
I took it before my valedictorian speech, before I walked down the isle (well, the rose garden lawn in our case), and for many years every time before I stepped into the dentist office.
When Landon developed teeth issues at not even 2 years old and needed crowns, we both had to make it through some lengthy procedures. Taking RESCUE helped me with the stress and worry of those days.
L needed to get cavities filled just the other day, and giving him RESCUE always helps him relax. After many years of dental issues, this child is not afraid of the dentist, and I know RESCUE is one of the reasons.
Rescue comes in many convenient forms:
RESCUE Pastilles
RESCUE Sleep Liquid Melts
RESCUE Pearls
RESCUE Gum
RESCUE Drops
I used to use the drops, but now the pastilles are my favorite. They taste like yummy gummi bears.
The gum has xylitol in it, which is a natural sweetener and good for your teeth, so I give it to L sometimes when we don't have time to brush his teeth before school in the morning. He is a child who naturally worries a lot — unnecessarily — and RESCUE helps him with that anxiety. It is so nice to have a natural remedy to help him with stress, in such an easy form.
So if you haven't tried RESCUE yet, I highly recommend you do — and then you'll want everyone else to know about it, too.
It comes in handy in so many situations — when you are nervous about a conversation or an interview or a test, or when you can't fall asleep. I always have RESCUE in my handbag and my car.
Get a BOGO coupon here, and you can also enter the #StressLess sweepstakes and sign up for the RESCUE e-newsletter.
RESCUE stress relief products are available now in the US at CVS, Walgreens, Whole Foods, Sprouts, and wherever you find natural products.
What do you do to manage stress?
I was selected for this opportunity as a member of Clever Girls and the content and opinions expressed here are all my own.