A few days ago I wrote about why I write Dagmar's momsense and my desire to be a cheerleader and resource for other moms. Staying with the theme of wanting to help, I'm exited to tell you about a new live show by Shari Criso (CNM, RN, IBCLC).
Are you having a problem with breastfeeding? Are you wondering about cloth diapers? Do you know of a mom who needs advice? Parenting can be a tough job and new questions arise almost every day. Lucky for us, baby expert Shari Criso is offering an incredible resource — a weekly LIVE video chat on Ustream — for free!
The My Baby Experts parties with Shari are every Monday night from 9 to 10 p.m. EST. You can personally ask Shari all your pregnancy and baby-related questions and she'll try to answer them live during the show. Shari can answers questions about breastfeeding, cloth diapering, and much more. There are tons of moms connecting in the chat room and weekly prizes from amazing sponsors.
The next show is today and Shari is giving away an Ameda Purely Yours Ultra double electric breast pump worth $300! And if you attend at least 5 of the parties (there are 6 left), you can win a $600 iCandy stroller.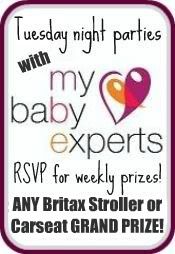 All you have to do is RSVP each week to be eligible to win and to ask Shari your questions. Find more info about attending the parties and find the RSVP form here:
If you are interested in breastfeeding in the future or are having trouble with it right now, Shari is the one you want to ask for professional advise. I have watched and really like her Simply Breastfeeding DVD, it's full of valuable information she has garnered in all her years as a lactation specialist. I also love the fact that her husband Joe and Shari run The Birth Boutique — we need more of these store so that breastfeeding moms can easily find all the advise and supplies they need.
Don't miss this chance to get your questions answered — tune in tonight at 9 p.m. EST and tell your friends about it so they can also benefit from Shari's show.